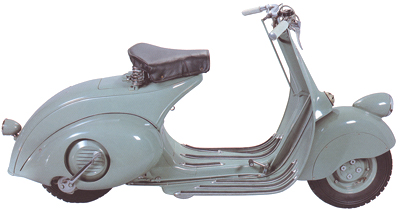 At 12.00 on April 23, 1946 at the Patent Office in Florence, Piaggio registered the following patent: "Motorcycle with a rational complex of organs and elements with a frame with mudguards and bonnet covering all the mechanical parts."

It's the official birth of the Vespa.

The first prototype is presented to a Motor Show at the stand of the Lancia it's November 1945. The official presentation of the first production model, the 98, however, only takes place in March of 1946 at the Golf Club of Rome, while the general public will be able to admire the first Vespa the following month at the Trade Fair in Milan: it's the beginning of the myth .